Thinking About Installing a Kohler Standby Home Generator?
We're Proud To Stand Behind These Products.
Kohler standby home generators will keep your home running when the power goes out. So, when being without power is not an option, how do you decide which standby generator your home needs? 
As a Kohler Dealer, we are frequently asked how to select the right standby generator. 
So in this post, we're going to share those questions and our answers. But if you don't see the answer to your question or would rather talk to us in person, get in touch. We're always happy to help you get the 5-star products you need.
Here are some of the questions we are asked most often to help you get started:
Why Choose a Kohler Standby Home Generator?
Kohler Generators offer a 3-year parts & labour warranty (with an additional 2-year parts warranty) beginning the day we install and test your new generator. 
Kohler is a family-owned company that manufactures its generators domestically in Kentucky, USA. They have a comprehensive testing process that ensures every generator and its components have been tested and examined for quality and operation. 
In addition, we find them to be the most reliable and user-friendly compared to other brands we have worked with over the years!
What Size of Generator Do I Need?
Do you want it to run your entire house or just a few essential loads? This will determine the size (and price) of the generator required. 
All the Kohler standby home generator models, regardless of size, are fully automatic. This means a transfer switch is installed to switch the main electrical panel's power over to the generator in case of a power outage. That means your decision mainly comes down to 2 options based on what you'll need to be powered in an outage:
Whole Home Standby Generator
The transfer switch will transfer power from your entire electrical system to the generator with a whole home generator. As a result, all lights, outlets, appliances, and electronics will function normally. In other words, there is no interruption to daily life.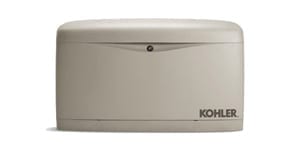 Essential Systems Standby Generator
A separate 'generator' panel is installed containing your property's essential loads. Therefore, in the event of a power outage, Only these critical loads will be transferred to the generator.
These loads usually include the furnace, a couple kitchen circuits, bathroom lighting, well pumps, and other essentials. Not powering absolutely everything in your home will reduce the load on the generator. As a result, it will reduce the size and price of the generator required.
This type of system will provide your family and your property with the essential services they need while keeping costs down.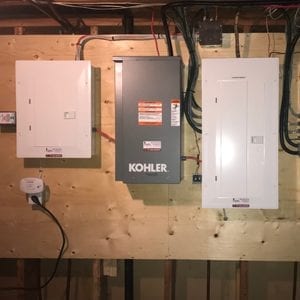 The panel on the right is the main panel, the transfer switch is in the center and the left panel is for essential loads only.
At Exquisite Electric, we analyze your home's electrical load so you can confidently choose the Kohler standby home generator right for you. For more information on how standby automatic home generators work, please visit our generators page.
Is a Generator a Cheaper Alternative to Electricity?
Going 'Off-grid' and using a backup generator to power a whole house seems like a tempting idea, especially with rising electricity prices. But, the cost of the gas used by a generator far outweighs the cost of the electricity required for the same amount of power use.
Your Kohler generator should be treated as standby power for emergency situations. It is meant to provide power and heat for your home, and power to essential rural equipment such as well pumps, septic systems and stock waterers until the outage is over. Purchasing electricity from traditional energy service providers is a cheaper alternative than 100% generator use at this point in time.
Do I Need Additional Generator Equipment?
Heater accessories do not come factory installed with Kohler standby home generators. However, in our colder Canadian climate, we highly recommended them.
Likewise, we also recommend adding a battery warmer, oil pan heater, and carburetor heater to your generator. This will keep these vital parts warm enough to start up without issue throughout the cold winter months. A regulator heater is also recommended when installing a propane-fueled model (as opposed to a natural gas-fueled generator).
How Do Kohler Standby Home Generators work with Solar Power and Off-Grid Systems?
Kohler standby home generators work really well with solar systems. As a matter of fact, a generator will nicely offset downtimes in solar systems for off-grid power systems.
For example, when daylight hours are significantly shorter, and energy demands are higher solar panels are usually unable to store enough to meet household needs. At this point, a backup generator will switch on to make up the difference and provide the necessary power.
What Else Do I Need To Know Before I Install a Standby Generator?
There may be additional costs associated with installing your new generator.
For example, you will need to consider code requirements, municipal bylaws, permit costs, and inspections. Also, you may need to hire additional trades to hook up fuel lines and pour concrete bases.
There are a lot of factors to think about, but we can help!
We know all the provincial codes and local bylaws, and we will obtain the proper permits on your behalf. We also take care of subcontracting, only hiring trusted local trades as needed for the other areas of the installation. All costs will be presented upfront before any work is undertaken. As a result, you won't have to worry about coordinating services, and you will know the job will be done right.
Exquisite Electric is Your Local Electrician. Proudly Serving Calgary, Okotoks, and the Foothills Area.
We Can Help You Choose the Right Generator, Manage Your Installation, And Keep Your New Generator Running Smoothly with Yearly Maintenance.
Give us a call at 587-333-3373 or use our online form to request more information.
To find out more about Kohler Home Generators, please visit Kohler's home generator page or Kohler's generator FAQs.