Home Generators for Standby Power
Home Generators provide you with backup power when you need it.
A power outage can be a nuisance. Even more so when your home, acreage, or business has critical systems that must keep running even during an outage. With a standby automatic generator, your power is quickly restored to vital stock waterers, furnaces and home office equipment.
Kohler Whole Home Generators
Exquisite Electric is an authorized Kohler Dealer. We provide sales, installation, and service for Kohler generators up to the 20kW size.
We believe in providing the best quality products for our customers and Kohler provides the most powerful, reliable standby generators and the best product warranty in the industry.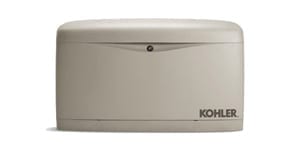 Automatic Standby Power
Ensure your home or business stays functioning during a power outage by using a backup generator.
These generators run on propane or natural gas and are installed outside. That means you won't have to make room in an attic or basement. To figure out what size and type of generator you need, please visit our Generator FAQS.

How Quickly Do Standby Home Generators Restore Power?
Power is restored in as little as 10 seconds with an automatic standby home generator. 
When the transfer switch senses the power from the utility is out, it will start the generator.  Then, as soon as the transfer switch senses that the generator is ready to provide power, it will switch the power source from the utility to the running generator.
All this happens within 10 seconds and all without you having to step outside or manually transfer the power at the panel!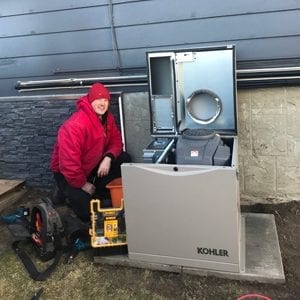 Kohler Home Generator Maintenance
To keep your generator performing when and how it should, annual maintenance should be performed.
Oil changes, software updates and system checks are performed to ensure your generator will continue to power up at peak efficiency when it is needed.
Exquisite Electric is the Calgary area's authorized Kohler service provider. Give us a call at 587-333-3373 to schedule your annual generator maintenance.