Electrical safety is serious. It sounds obvious, but over our 30+ years of electrical service…well, let's just say we've seen some VERY unsafe situations.
All electrical systems have the potential to cause harm as electricity seeks the easiest path to ground most often through a conductor.
Most of us know that metals are excellent conductors. Well, the human body is also conductive. And, the electrical voltage and current in a regular home or business has enough power to cause death by electrocution.
ELECTRICITY CAN BE DEADLY.
PROTECT YOURSELF, YOUR FAMILY, AND YOUR HOME AND BUSINESS.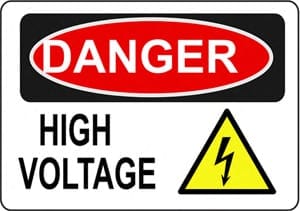 Electrical Safety Devices Required By Code
There are numerous electrical safety devices designed to help keep your family and especially your children safe from electricity. 
The following are required by code for all new installations:

CO/Smoke Detectors 
Smoke detectors need to be replaced every 7-10 years and should be checked monthly to ensure they are working.
You can purchase a can of artificial smoke from hardware stores for this, as this will test the inner workings of the detector as well as the alarm. This is an easy maintenance project that should not be ignored. 
Please visit our blog for detailed information on how to test CO/smoke detectors. Working smoke detectors can give you the time you need to escape in the event of a fire.
Carbon monoxide detectors detect carbon monoxide (CO), a deadly gas that is odourless, colorless, and is produced by incomplete combustion.
Every home that has a fuel burning furnace or appliance is at risk of a CO leak. Installing CO detectors can give you peace of mind that you will be warned in time in the event of a leak.
Exquisite Electric installs the latest in high quality combination CO/Smoke Detectors. Please contact us if you have any questions and to have these lifesaving devices installed or tested.
ARC Fault Protection
New homes and new installations are now required by the 2015 Canadian Electrical Code to have the bedroom outlets protected with ARC fault breakers. Homes older than 2015 were not affected by this code change and should be updated to prevent fire hazards associated with arcing.
Arc faults or arc flashes can be extremely dangerous, with temperatures of up to 35,000 degrees Fahrenheit.
Arcs can be caused by a multitude of issues; frayed electrical cords, old wiring, nails through the wires, most of which is hidden behind the drywall and cannot be seen. Anytime a circuit is damaged enough, there is the possibility of the electricity arcing, or 'jumping' from one connector to another. This causes fire hazard and electrocution conditions.
An AFCI (Arc Fault Circuit Interrupter) Breaker will sense an arc on its circuit and trip, preventing further damage.
Exquisite Electric will happily provide you with a quote on installation of ARC circuit breakers to help protect your family from this unseen danger.
Tamper-proof Receptacles
These receptacles prevent anyone from getting an electric shock.
This is especially important with small children as they are more prone to stick objects in an electrical outlet. Bring your home up to code standards with these receptacles for protection against contact with electric current.
Because, 40% of treated electrical injuries in children under 5 happen as a result of putting an object into an outlet.
GFCI Protection
Ground Fault Circuit Interrupter (GFCI) protected electrical receptacles immediately shut power off to the outlet if it identifies current travelling along an unintended path such as through water or a person.
Water and electricity should not mix because when they do there is a greatly increased risk of electrical shock.
GFCI Protected Devices are an important product to install in all moist or damp areas of your home or property. They are required by code in all new installations within 5 ft of faucets and in all outdoor installations.   
GCFI devices should not be reset without first figuring out what the root cause of the interruption was.
Security Lighting
Help protect your home from break-ins with motion sensing lights that come on even when you are not home. Installing automation will even allow you to program your interior lights to mimic your family's patterns while you are away.
Contact Exquisite Electric today for your security lighting consultation.