Home Safety Electrical Inspections
Electrical safety inspections should be completed every few years to make sure your home's electrical system is perfoming properly and is up to current electrical standards.
An inspection will detect any issues before they cause failure and help avoid disasters like fire or electrocution.
Reasons For An Electrical Inspection
It's time to schedule your home electrical inspection if:
Your home is over 10 years old,

Your home has recently been renovated,

Your home has not been inspected in a few years,

You are buying a new-to-you home. The prospective home should be inspected by an electrician as well as a home inspector prior to signing the sales contract to ensure there are no unexpected surprises,
You have noticed flickering lights, outlets or light switches that are hot to the touch, GFCI devices or panel breakers that regularly trip or anything else that worries you and may indicate a larger electrical issue.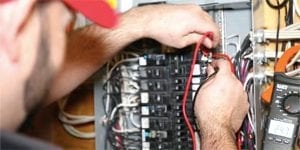 We offer a complimentary home electrical system inspection with every service call and also perform official real estate and insurance inspections for an additional fee.
Exquisite Electric Inspection Checklist
With Exquisite Electric, each service call comes with a basic home electrical system inspection at no extra charge.
The inspection includes the following:
Testing smoke/CO detectors for function and checking their expiry.
Inspecting the attic and unfinished open areas for open junction boxes.
Verifying safety devices such as GFCI and ARC fault protection are installed and operational as per current electrical code standards.

Inspecting the electrical panel for age, connections and operation.
Verifying grounding has been done properly.

Checking for aluminum wiring.

Inspecting outdoor lighting and outlets.

When the technician has completed the inspection, you will receive a detailed report of all code and/or safety issues requiring attention.
Insurance Electrical Inspections
In some cases, an insurance company will require an official electrical inspection signed by a certified electrician before providing coverage.
Because of the liability involved with an official insurance letter, these inspections are not part of our free inspection service and are performed at an additional cost.