Exquisite Electric is a full-service electrical contractor serving homes and businesses in Calgary, Okotoks, High River, Black Diamond, Turner Valley, and the Foothills.
As a family-owned and operated business, we're committed to and driven by providing the highest quality workmanship and customer service.
We want to set an example, not just in our industry but also for our kids.
That means we work safe, fast, clean, and on budget on every single service call.
With over 30 combined years of home and electrical business service, we've seen the good, bad, and ugly in the electrical trade.
And that's why being exquisite, the best of the best, is the only way to run Exquisite Electric.
Call us today for all of your electrical needs:
24/7 emergency service;

Lighting;

Panel Upgrades;

Renos;

and more!
We're "At Your Service!"
This Is How We Do Business
Up-Front Pricing
We offer up-front pricing. This means you will know the exact cost of the job before we begin any work.

Workmanship Warranty
Exquisite Electric stands behind our workmanship. That is why we offer a 5-year replacement labour warranty on the work done in your home or business.
Respect for Your Time
We value your time, just like we value your choice of Exquisite Electric. We'll work with your schedule and guarantee a two hour arrival window.
Respect for Your Home
From booties and mats to protect your floors to thorough cleaning of our work area after completion, we make sure we leave your home looking great!
The Team at Exquisite Electric
We pride ourselves in being the best of the best.
That means we make sure every service call gets the most professional, highly trained, and trustworthy electricians in the city to your home and business.
All of our technicians are drug tested, background-checked and continuously trained in code updates, product information, and customer service standards.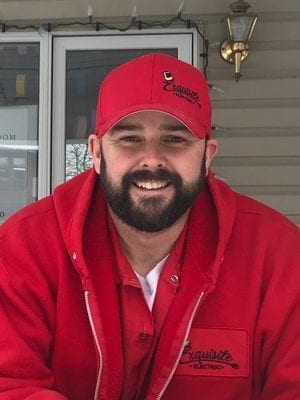 Bryan Kenly
Master Electrician
"When I have made a client for life, that is real success."
Bryan is a Master Electrician with 14 years experience in the field including 10 years of residential service experience.
He is a fully certified Red Seal Master Electrician, WHIMIS trained, and a certified home electrical advisor.
Bryan has product certifications for:
Nest Products,
Lutron Radio Ra2,
Lutron Blinds, and
Caséta Wireless home automation systems.
He lives in Calgary Alberta with his beautiful wife and his two children. In his spare time, Bryan enjoys riding his motorcycle through the Rockies and camping with his family and friends.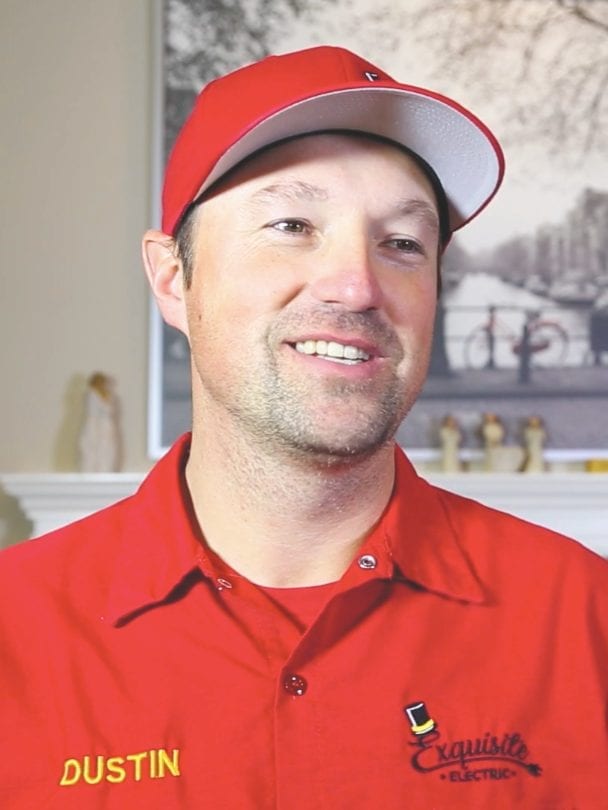 Dustin Prete
Master Electrician
"I am always trying to learn new things and provide the best service possible."
Dustin is a Red Seal Master Electrician with 18 years of experience.
Formerly the Residential Home Services Manager for Westridge Electric in Okotoks, Dustin places customer service first and is highly skilled at troubleshooting and electrical installation and design.
He has product certifications for:
Residential Kohler Generators,
Nest Products,
Glowstone Lights,
Lutron Radio Ra2,
Lutron Blinds, and
Caséta Wireless home automation systems.
Dustin was raised in Okotoks, Alberta, and lives there with his wife and 2 children. In his spare time, Dustin enjoys fishing, golfing, smoking meat (ask him about his favourites), and watching Dawgs Baseball with his family.
Trish Kenly
Office Manager
"Our clients are our greatest assets.  Treat each client as if they are the only one!"
Trish is the Office Manager at Exquisite Electric and is most often the first person you will talk to when you call our office.
She has over 20 years of experience in the administration and customer service fields.
Trish has worked in many different sectors, including the banking and investment world and the oil and gas sector.
Trish grew up near Waterton Lakes National Park, where she spent her summers riding horses and guiding trail rides.
Now she lives in Calgary with her wonderful husband and two children.
She loves camping, nature, sports, and hanging out with her family and friends.
Watching live music and traveling with her daughter to dance competitions are some of her favorite pastimes.