What Is the Cost to Replace Aluminum Wiring?
The cost to replace aluminum wiring in a house depends the option you choose.
Pig-tailing aluminum and copper wiring costs the least. While rewiring an entire house costs the most (but requires no further maintenance). At Exquisite Electric, we offer FREE aluminum wiring evaluations and repair quotes. We can help you figure out which option is best for your home and budget.
How to Choose an Aluminum Wiring Repair Option
How to choose an aluminum wire repair method depends on your budget, the extent of the aluminum wire, and the accessibility of the aluminum wire. Whatever method you choose, talk with your electrician and make sure:
The Aluminum Wiring Repair Method is Safe
It will not increase the risk of fire or create a new hazard.
The Aluminum Wiring Solution is Effective
The aluminum wiring repair solution works to reduce/eliminate the risk of fire. And must also pass inspection and meet the home insurance provider's requirements.

Aluminum Wiring Solutions
There are 2 aluminum wiring solutions Exquisite Electric offers that fit the above criteria; a complete replacement of the aluminum wires with copper wiring, or keeping the aluminum wiring and creating new and safe connections at each receptacle.
Rewire And Replace The Aluminum Wiring
The cost to completely replace aluminum wiring with copper wiring is going to be the most expensive. But it is the best option. Complete replacement involves replacing the aluminum branch circuit conductors with copper wire.
During the rewire and replacement, our electricians fish the new circuits directly into the wall. Open or unfinished spaces with no drywall are easier to replace. This means that if your home has an unfinished basement, for example, the cost can be less. There may be some cutting into the drywall and ceilings, which will require repair and add to the cost.
This method follows safe and effective solution guidelines. The new copper circuit system will be installed and the aluminum wire is left in the walls with no electricity running through it.
Because this is the most expensive option, and if cost is a barrier, we can recommend some alternative ways to mitigate the risk.
Maintaining Aluminum Wiring By Redoing The Connections
If you choose to maintain your home's aluminum wiring, there are 2 methods we can use to make sure it is safe. These options are to repair using either Alumiconn Connectors or Aluminum Rated Marrets.
Alumiconn Connectors
The Alumiconn Retermination Program is faster to install and less costly than rewiring. In many cases, walls and ceilings do not have to be cut. Every 15 and 20 ampere branch circuit is re-terminated using a special tool. A short section of copper wire is attached to the ends of the aluminum wire at connection points (the technique commonly known as "pig-tailing"). Pig-tailing with a specialized Alumiconn connector mitigates the risk factors and is considered to be a safe and permanent repair of the existing aluminum wiring. The repair will include every connection or splice involving aluminum wire in the home.  This includes outlets, switches, fixtures, appliances, and junction boxes. The repaired system now allows for the use of standard wiring devices, including receptacles and switches.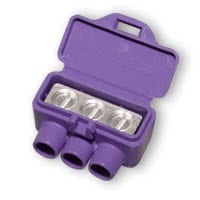 Alumiconn is Permanent
The Alumiconn repair method provides a permanent, low-resistance electrical connection to aluminum wire and is recommended on the basis of research, laboratory tests, and demonstration projects.  The specialized connectors eliminate the aluminum connection failure problems (creep, galvanization, etc.).  We will repair the connections of the existing, installed aluminum wire reducing the cost to replace aluminum wiring associated with a complete rewire.
Issues with Alumiconn
The only issue with Alumiconn Devices is that they are quite large and will not fit in many of the existing, standard sized receptacle (outlet) boxes. Care must be taken to ensure that the device and wiring will fit safely within the box with no kinking of the wires. Aluminum wiring can be brittle and any kinks may cause the wire to break, thus causing a much larger problem! In these cases, a larger box can be installed but may make this repair method more costly than our other repair method.
Aluminum Rated Marrets
This is the most cost efficient method of aluminum wiring repair. It involves attaching a copper wire to the aluminum circuit using an aluminum rated marret. This device is dissimilar to both aluminum and copper and will limit the galvanic corrosion. A deoxidizing compound is also applied to limit oxidization issues. These devices are smaller than the Alumiconn connectors and allow for use within existing, standard sized receptacle boxes.
The cost to repair aluminum wiring with this option is less expensive. We do recommend all receptacles repaired using this method be checked every 5 years to ensure the connection has remained tight.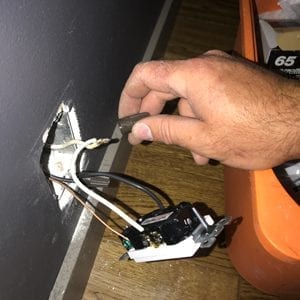 Unsafe Aluminum Wire Repair Methods
Exquisite Electric does not recommend using any of the following "Aluminum Wiring Solutions".  They are not permanent and have not been proven to be 100% effective during testing.
Do Nothing And Leave Aluminum Wiring Alone
This option speaks for itself, as it does nothing to reduce the risk to your home. It may also create problems with your insurance provider, as they may require you to fix this potential problem.
Crimp Connectors
These are not properly rated to connect copper and aluminum wires and will not solve any of the connection issues such as galvanic corrosion and oxidization.
Twist On Connectors
These can actually cause even more problems than just leaving the aluminum wiring alone. They can fail when connected to aluminum wiring and increase the risk of overheating already present in aluminum wiring.
Co/Alr Switches And Receptacles
This solution has failed during testing in laboratory settings when connected to aluminum wiring.  In addition, the connectors are not available for every part of the wiring system (permanently wired appliances and light fixtures in the ceiling). If used, these devices must be installed carefully and are not considered a complete repair.
Aluminum Wiring is a serious issue if left untreated. If you are unsure of your options or have any questions, please give Exquisite Electric a call at 587-333-3373.
We offer free aluminum wiring inspections and detailed repair quotes.