Electrical Renovations, Repairs, and Upgrades
No job is too small for Exquisite Electric.
We're at your service for everything from small repairs and upgrades to complete renovations or custom home construction.
We work with homeowners, business owners, and contractors to ensure that your project runs smoothly and everything turns out the way you envisioned.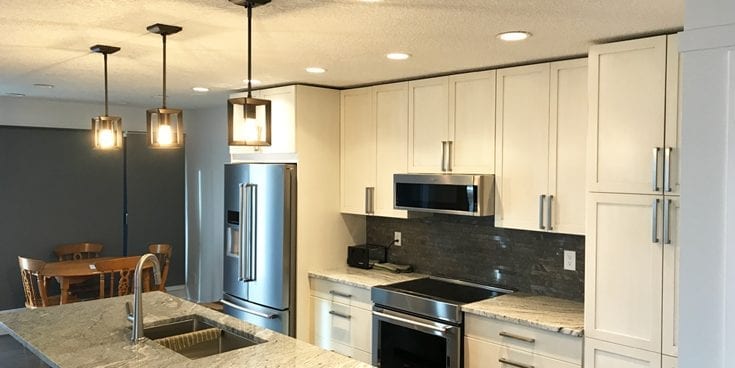 Renovations
Exquisite Electric is your top choice for renovations. We're excellent at what we do and regularly work with reno and design companies to help customers achieve their dream reno results.
From initial design stages through to completion, we bring quality and experience to your project.
Basement Finishing
We can help you select the right lighting and heating options to create a new space your family will enjoy spending time in. 
Kitchen Renovations
Make sure you have optimal lighting for cooking and entertaining.
Bathroom Renovations
Heated Flooring, waterproof dimmable shower lighting, elegant vanity lighting, and timed ultra quiet bathroom fans are a must!
Garage Renovations
Add more power and lighting to your garage to make it the perfect place to do your thing!
Real Estate Renovations
Selling your home?
Increase your home's value and appearance with energy efficient LED lighting. Avoid complications and price reductions in the final sale by repairing any issues before the buyer's home inspector finds them.
Insurance Disaster Restorations
In the event of a flood or fire, your home's electrical system can be damaged or compromised. Call us and we will ensure your electrical system is safe and up to code standards and help you rebuild your family's home better than ever.
Repairs
Lights flickering, switches, or outlets warm to the touch or not working? No problem!
Our electricians are experts at troubleshooting and repairing electrical issues.  We've seen it all and know how to fix it all, on-budget, safe, fast, and clean.
Poor Connections
Faulty Devices (Switches, Outlets, etc)
Incorrectly Installed Wiring
Appliances not working
Tripped GFCI Outlets
Your safety is our number 1 priority.
Electrical issues are often a symptom of a larger problem that can't be safely fixed by simply resetting breakers or devices.
Our electricians perform a complete home electrical safety inspection as a standard part of every service call. They will find and correct any electrical issues before they become a safety concern.
Upgrades
Looking to upgrade your home's lighting, features, or electrical system? 
We offer our customers expert advice on the latest styles and trends as well as information on the most recent electrical code standards and safety devices. 
Lighting Upgrades
LED lighting has never been less expensive or more versatile. Ask us how to save power and increase light output in your home.
USB Charging Devices
Most people have mobile devices and there are never enough handy spaces to charge them. We'll replace your standard kitchen and office outlets with dual USB charging outlets. They allow super fast charging of 2 devices while still leaving 2 outlets open for other uses.
Safety Device Upgrades
We'll upgrade your home with AFCIs, GFCIs, tamper-proof receptacles and more to conform to current code standards. Visit our safety page for more details on what devices your home should have to keep you safe.
Home Automation Installation and Programming
We install and program Lutron RadioRa2 and Caséta Systems that integrate with lighting, smart speakers, and window coverings.
We are Nest dealers and install and program Nest Security Cameras, Thermostats, and Carbon Monoxide and Smoke Detectors to communicate with your mobile devices when they notice a problem.
Energy Efficiency Upgrades
Outdated lighting and heating can use up a lot of power. Ask our experts about devices and lighting options to save you money.

Garage Upgrades
Upgrade your garage panel to get more power to your chargers and tools. Improve the lighting and heating in your shop to make it a space you want to spend time working in.
Electrical Panel Upgrades
If your electrical panel is over 20 years old, is an FPE panel, or has run out of space for new circuits—it's time for a replacement or upgrade.
Check out our blog or give us a call to find out what size of panel will meet your needs.
Landscape Outdoor Lighting
We can help you showcase your yard with accent lighting and make sure that you have adequate security lighting.
Hot Tub Wiring
We'll get power to your new spa and have it hooked up in no time!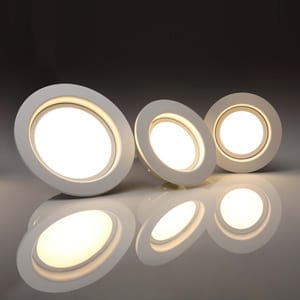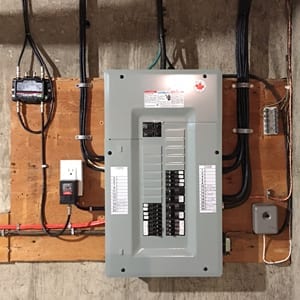 Exquisite Electric will assist you with all your electrical and lighting renovations, repairs and upgrades.  Give us a call or request an appointment today.
We have the expertise and skill to turn your vision into a reality!