Power Surge Protection And Lightning Protection
Exquisite Electric installs whole-system surge protection right at the electrical panel in your home or business.
This device will stop the surges before they reach costly equipment giving you peace of mind and saving your hard earned money.
Why Do I Need A Surge Protector?
Calgary and the Foothills see many summer thunderstorms, and with those storms comes the risk of lightning.
Lightning, along with general power surges common in the electrical grid, will overload your electrical system causing damage to wiring, appliances and expensive electronics. 
This damage can be immediate and catastrophic or a gradual deterioration shortening their lifespan.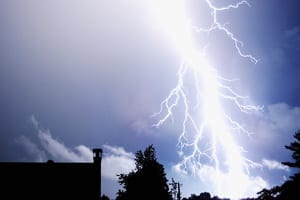 What Causes A Power Surge?
Lightning isn't the only cause of a power surge. That's because, electricity does not flow evenly throughout the day. Every time a fridge, heater, blow dryer, or any other appliance comes on, you are creating a small surge.
The overall electrical grid also has its own surges, which you may see as lights flickering.
When it comes down to it, there is no way to externally prevent a surge. But we can help you mitigate the effect on your electronics.
Power surges are a major contributor to breaking down the microchips in equipment, causing the need to replace or repair items more frequently than necessary.
Power Bars Vs. Whole-Home Surge Protection
Exquisite Electric installs surge protectors at the main electrical panel to protect the whole system, called Whole-Home Surge Protection.
That's because simple power bars with 'surge protection' are often not efficient enough to protect what they are powering. They are also rarely utilized for washers, dryers, ranges and refrigerators, likely a home's most expensive electronics.
Exquisite Electric installs surge protectors at the main electrical panel to stop surges from reaching the rest of your home, protecting the whole system.
Whole Home And Commercial Surge Protection Options
Exquisite Electric offers Whole Home Surge Protection and Commercial Surge Protection.
By installing the protector right at your electrical panel, you are protecting your entire electrical system and all the devices connected to it from damage.
We install only the highest quality protectors and are an Authorized Dealer and Installer of CleanVolt Surge Protectors. 
Give us a call to find out how we can help you!