Your Electrical Panel is Your Home's Control Centre…
so make sure it's the right size for your electrical needs.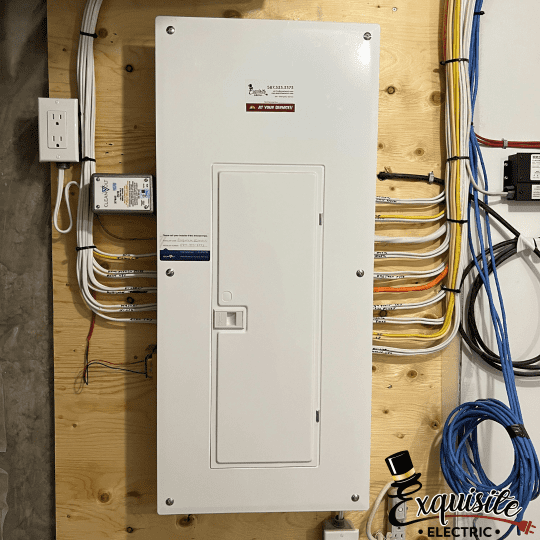 Exquisite Electric has upgraded and replaced approximately 2,000 panels in Calgary, Okotoks and the surrounding areas!
We Are Southern Alberta's Electrical Panel Experts!
So whether your replacing an old panel, upgrading your existing one, OR simply wondering "What size electrical panel do I need?"…
Call Us Today: 587-333-3373
"What size electrical panel do I need?"
Before you start any major electrical upgrades to your home, it's important to know the size of your panel. Electrical Upgrades include anything that will put a greater electrical demand on your home panel…and your budget.
Upgrades could be things like:
Large renovations
Replacing old appliances,
Adding air conditioning,
Installing a hot tub,
etc.
Chances are your home has 1 of 2 panel sizes. The size of the panel is usually based on when your home was constructed.
Most homes built before 2015 have a 100Amp 30/60 circuit electrical panel. This means that the panel can theoretically supply up to 100Amps and fit 30 single breakers or 60 tandem breakers (2 breakers in one taking up only 1 space).
If your home was built after 2015 will likely have a 100Amp 60/120 circuit electrical panel. These newer panels are larger to accommodate arc-fault breakers (which we will discuss further below.)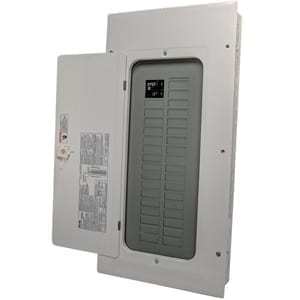 Image: Cutler Hammer 100Amp 30/60 Circuit Electrical Panel
Did you know ELECTRICAL PANELS EXPIRE?
If your panel is over 20 years old, it is past its expiry date and needs to be replaced regardless of size.
Choosing to NOT replace an expired panel puts you at a HIGH RISK for an electrical fire.
Reasons to Upgrade to a Larger Panel
Why do you need to change the size of your electrical panel? Are adding enough electrical load to your existing panel to warrant an upgrade?
Usually, there are 2 main reasons you will need to increase your electrical panel size.
1. Not enough physical space for breakers.
2. More load (power required by appliances and equipment) than the existing panel can supply.
1. Your Electrical Panel Needs More Breaker Space.
The Canadian Electrical Code for new electrical circuits changed in 2015. Specifically, all general receptacle circuits (circuits containing outlets, lights, etc.) now require arc-fault protection. This means that arc-fault circuit interrupter breakers must be added to the electrical panel for any new circuit put into your home.
In addition, it also applies to any circuit that is changed. This means if you are changing a receptacle, such as adding a dimmer switch, you must switch out your current breaker to an arc-fault breaker. To learn more about arc-fault protection and what it does, please visit our electrical safety page.
Arc-fault breakers become an issue because they are twice the size of regular breakers. They take up an entire breaker space in the panel for each circuit. In comparison, regular breakers can be tandem which means they can fit 2 breakers in 1 panel space, taking up half as much room. If you are adding too many arc fault breakers to a small panel, you will quickly run out of room.
The Solution? Install a Bigger Electrical Panel
Upgrading from a 30/60 circuit panel to a 60/120 circuit electrical panel will increase the amount of room you have for additional circuits.
A 30/60 circuit panel has 30 spaces, 15 on each side for breakers. Comparatively, a 60/120 circuit electrical panel has double that with 60 spaces for breakers.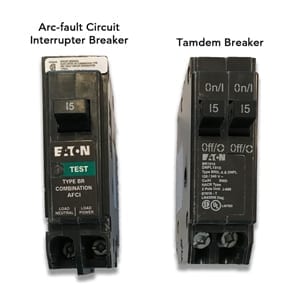 Image: Arc Fault Circuit Interrupter Breaker vs Tandem Breaker
2. The Electrical Panel Can't Supply Enough Power
The second issue homeowners can face is not having enough power supplied by the electrical panel to meet their load requirements. The amount of power an electrical panel can supply is limited to its service size. Most homes have a 100amp service with 100amps being the absolute maximum the panel can supply.
Load is the amount of power an appliance or piece of equipment requires. If you add items to your home that require a lot of additional load, your existing panel may not be able handle the increased demand.
Adding items that draw at least 20Amps of power to your home will require a load calculation to determine if the existing panel can supply enough power.
Check the nameplate or manual of a new appliance or piece of equipment to find the load requirements.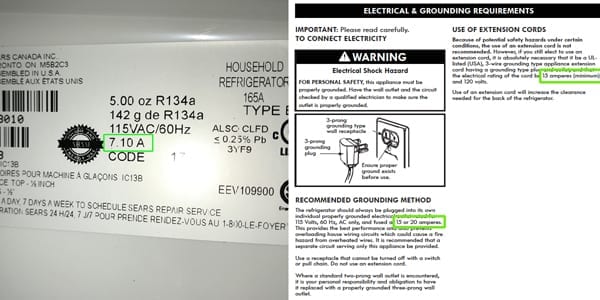 Refrigerator Name Plate (Left) and Manual (Right) with Load Requirements Highlighted in Green
Additions To Your Home That Require a Lot of Power
Some additions to your home and property draw much more power (load) than others. The following are some examples of additions that may require an electrical panel and service upgrade:
Renovations And Basement Developments
Significant renovations including basement developments can necessitate a panel upgrade. This can be due to either size or power supply limitations.
Adding or changing circuits during a renovation will also mean adding arc-fault oversized breakers to the panel. Many existing panels will not be physically large enough to fit all these new breakers. Furthermore, a renovation or development may also add heating or cooling loads such as AC units (30Amp), forced air heaters (average 15-20Amp) or radiant panels (average 15Amp). These large loads may require a larger capacity panel and service just to cover the power needed to run them.
Specific loads will vary depending on the type and scope of the renovations.
Garage or Shop Additions That Add Load
Adding a new garage or shop will likely require the addition of a garage sub-panel. The average garage electrical panel size is a 60Amp 12/24 circuit panel. In most cases, this would run the garage door opener, most small shop welders, power tools, lights and would leave room for future circuits.
The addition of the following to an existing garage load may require a larger panel or service:
Residential Electric Car Charger
5Amp-100Amp
The amount of power needed depends on the charger model and the rate at which you want the charger to fully charge your car.
For example: For an average car charger, a 240v/50Amp circuit would charge at a rate of 40km/hour. A smaller 120v/15Amp circuit would charge at a rate of 4km/hour but would incur a smaller load.
Car Lifts
A Lot!  Load depends on size and model.  You would almost certainly need to upgrade to a 200Amp service.
Accurately Calculating Your Home's Electrical Load
It's always a good idea to contact an electrician to accurately figure out the size of panel you require for your home.
First they will perform a load calculation. This will take into account the size of your home, including the number of circuits you already have and the current amount of load on your electrical system.
Second, they will factor in the potential load increases associated with any new circuits, large appliances, heavy power tools, hot tubs, garage developments, etc. that you are thinking about adding.
Get More Power By Upgrading the Service
If your home's combined load is larger that what the electrical panel can supply, you will need to upgrade your service from a 100Amp service to a 200Amp service.
This will double the amount of power it can supply and thus double the load it can support. In most cases you will also need to upgrade your electrical panel and/or breakers to one rated for a 200Amp service.
With approximately 2,000 electrical panels replaced and upgraded across Calgary, Okotoks, and the Foothills, we have the proven expertise to help you determine the correct panel size for your needs.
Call the panel experts at Exquisite Electric at 587-333-3373 if you have any questions.
We're your local Red Seal, Master Electricians with over 30 years of experience.
And always, At Your Service!